Russian missiles have killed two people in Poland, which is a member of the NATO military alliance.
That is according to a senior US intelligence official.
Polish media said missiles hit an area where grain was drying in Przewodow, a village in eastern Poland near the border with Ukraine.
Polish government spokesman Piotr Mueller did not confirm the information, but said leaders were discussing a "crisis situation".
"Firefighters are on the spot – it's not clear what has happened," said firefighter Lukasz Kucy.
Moscow launched a large number of missiles at Ukraine on Tuesday, knocking out power for seven million households.
NATO collective defence
It is unclear whether the two missiles that apparently landed in Poland were part of the same wave, but it is the first time Russian rockets are said to have reached Poland.
Poland has not been involved in the conflict, but has welcomed millions of Ukrainian refugees and has widely condemned the war.
NATO's collective defence, enshrined in Article 5 of the Washington Treaty, means an attack against one member is considered an attack against all.
Polish Prime Minister Mateusz Morawiecki has called an urgent meeting to discuss national security, a government spokesman said on Twitter.
Latvia's Deputy Prime Minister, Artis Pabriks, said: "Criminal Russian regime fired missiles which target not only Ukrainian civilians but also landed on NATO territory in Poland.
"Latvia fully stands with Polish friends and condemns this crime."
The Estonian Foreign Ministry said the news from Poland was "most concerning" and said it was ready to defend "every inch of NATO territory".
Latest news from Poland is most concerning. We are consulting closely with Poland and other Allies. Estonia is ready to defend every inch of NATO territory. We're in full solidarity with our close ally Poland 🇵🇱

— Estonian MFA 🇪🇪 | 🌻 #StandWithUkraine (@MFAestonia) November 15, 2022
A British Foreign Office spokesman said: "We are investigating these reports and liaising closely with allies."
On Tuesday NATO's Secretary-General, Jens Stoltenberg, attended a meeting of the EU's Foreign Affairs Council in Brussels where they discussed ways to further support Ukraine.
Speaking ahead of the meeting, Mr Stoltenberg said it was important not to underestimate Russia – noting that the country retained "significant capabilities and a high number of troops".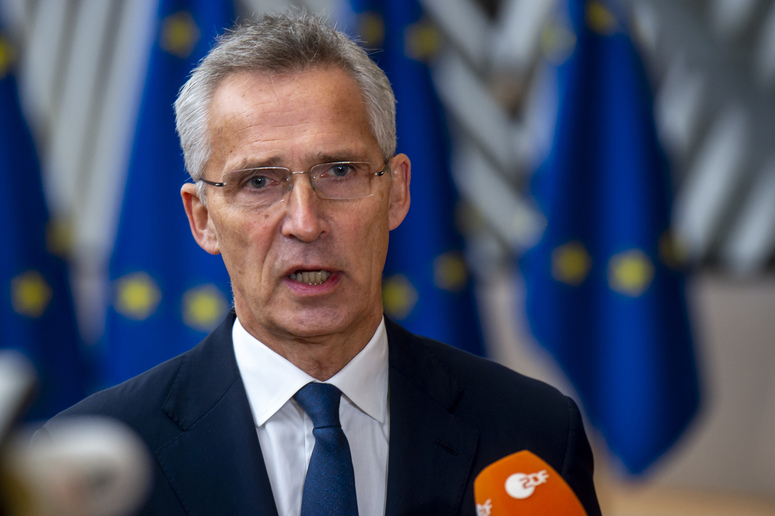 NATO Secretary General Jens Stoltenberg speaking ahead of an EU Foreign Affairs Council in Brussels. Picture by: NATO
He also underlined the importance of providing more training to Ukrainian forces.
"We need to continue to provide support to Ukraine for as long as it takes with capabilities but also with training", he said.
Military mobility was also part of the discussions.
Additional reporting: IRN
Main image: Poland and Ukraine are marked on a map in this file photo. Picture by: Hakan Gider / Alamy Stock Photo