A missile blast that killed two people in Poland appears to be an "unfortunate accident" and not an "intentional attack", the country's president has said.
Andrzej Duda tweeted that officials had "no proof at the moment that it was a missile fired by the Russian side".
He added: "There are many indications that it was an air defence missile, which unfortunately fell on Polish territory."
NATO Secretary-General Jens Stoltenberg said in a statement: "Yesterday's explosion took place as Russia launched a massive wave of rocket attacks across Ukraine.
"An investigation into this incident is ongoing, and we need to await its outcome.
"But we have no indication this was the result of a deliberate attack, and we have no indication Russia is preparing offensive military actions against NATO.
"Our preliminary analysis suggests that the incident was likely caused by Ukrainian air defence missile fired to defend Ukrainian territory against Russia cruise missile attacks.
"But let me be clear – this is not Ukraine's fault. Russia bears ultimate responsibility as it continues its illegal war against Ukraine," he added.
#NATO ambassadors met to address yesterday's deadly explosion in #Poland. Allies expressed strong solidarity with our valued Ally Poland, and made clear that we will continue to support #Ukraine's right to self-defence. We remain vigilant, calm & closely coordinated. pic.twitter.com/7LWd73xu6i

— Jens Stoltenberg (@jensstoltenberg) November 16, 2022
Ukrainian President Volodymyr Zelenskyy has said he has "no doubt" the missile "was not Ukrainian" and has called for his officials to have access to the site of the blast.
The preliminary findings came after US President Joe Biden and other western backers of Ukraine had thrown their weight behind the investigation, amid repeated assertions from Russia that it did not fire the missile.
Russia has insisted it did not fire the missile.
A spokesman for the defence ministry told Russia's state-owned RIA news agency that its strikes on November 15th were no closer than 35km from the Polish border.
Scott Lucas is Professor of International Politics at the Clinton institute at UCD.
He explained to The Hard Shoulder that NATO's Article 5, which means an attack against one member is considered an attack against all, has never really been tested.
"The differences played out this morning, before we established what was likely – which is that it was a Ukranian air defence missile that actually strayed and fell in Polish territory – the Poles were thinking 'Alright, we will consult with other NATO members about whether or not we think this is a deliberate Russian attack'," he said.
"There was never a question that Poland was going to use Article 5, which was 'We have an emergency situation, we effectively are at war with Russia'".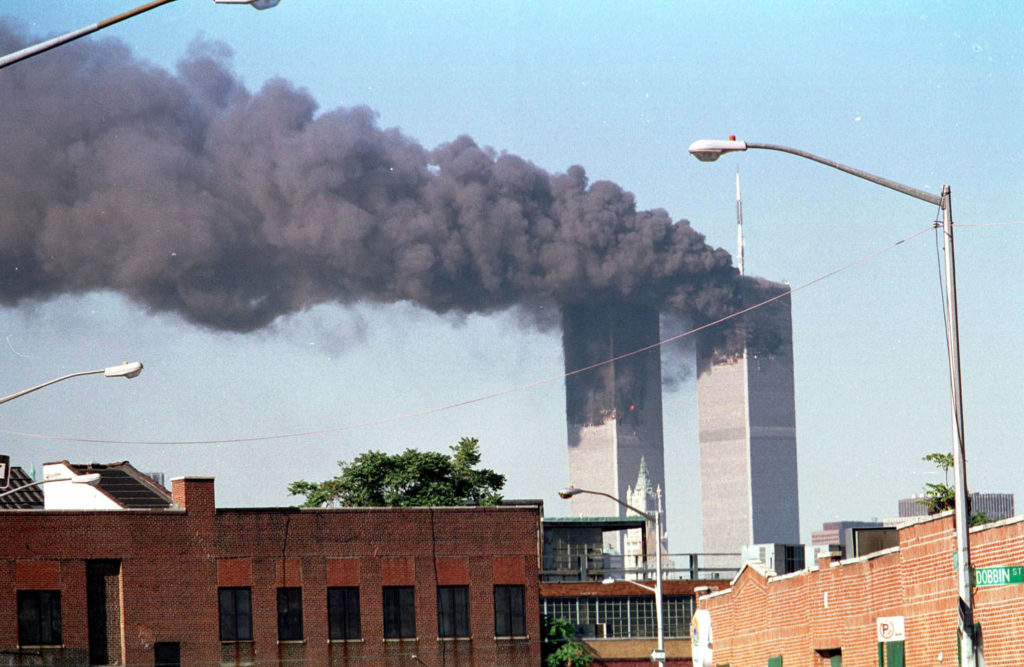 A view of World Trade Centre towers after a hijacked flight crashed into each structure in lower Manhattan on September 11th, 2001. Picture by: PA/PA Archive/PA Images
Prof Lucas said the clause has only been used once before, but not against a specific nation.
"The most famous case of Article 5 being invoked was actually for a different circumstance," he said.
"That was 2001 after the World Trade Centre was attacked, and The Pentagon, by al-Qaeda.
"Even though it was not a state that attacked, it was al-Qaeda that attacked, the US convened NATO to say, 'Yes we're in an Article 5 situation where we need to act collectively against this threat'.
"We really haven't been in a position, in my memory, where we've had Article 5 being invoked by a member of NATO against another state."
He added that the issue of consensus, where some NATO members may not agree, has yet to be challenged.
"It's sort of a consensus thing: that Article 5 is there to get a consensus of all members, that in fact we do have a situation where an aggressor has to be confronted.
"We've never really faced the test case… which is what happens if we can't get that consensus – do we go or do we not go".
Main image: A NATO flag flies surrounded by flags of member states at the headquarters of the military alliance in Brussels. Belgium. Picture via @NATOpress on Twitter